Adam Varner | In Service to the VBSPCA for 1 Year
It only took one visit to the Virginia Beach SPCA Shelter before Adam Varner was hooked. He saw an opportunity to make a real difference in the lives of homeless animals. "Money alone can't solve the animal issues that our community faces, but the ability to be part of a team to help guide decisions makes all the difference in the world," says Varner.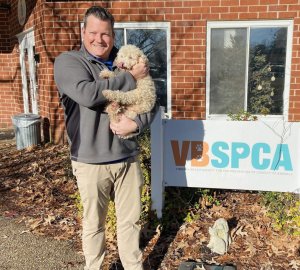 As one of the newer faces of the VBSPCA Board of Directors, Varner brings an energy and his business savvy to the organization. The Hampton Roads native spent five years in the Marine Corps and now has his own construction company, 757 Pros. Varner lives in Virginia Beach with his girlfriend, their 11 year old son, and two rescue dogs, Loki and Liberty.

Varner has rescued several dogs over the years, which has ignited a passion to eliminate animal abuse and neglect. "Animal suffering hits me on a very personal level," he says. "Watching the transformation of the abused to happy, healthy, and well adjusted gives me incredible joy!"

Varner encourages members of the community to visit the VBSPCA shelter to get a better understanding of what the organization does. "Getting to see the impact that is made on a daily basis with our staff, volunteers, and board members is truly inspirational," says Varner. Additionally, he encourages animal lovers to spread the word about the many services the VBSPCA provides. "Word of mouth and spreading the good work done by the VBSPCA on social media is key in allowing our impact to grow."

Board members like Varner are crucial to furthering the VBSPCA mission of eliminating animal suffering. We are thankful for everything he does to help our animals!

If you are interested in serving on the Virginia Beach SPCA Board of Directors, please email Emily.Peck@vbspca.com for more information.