A Look Inside the VBSPCA Clinic
The Virginia Beach SPCA Clinic has been serving the community for over 50 years; however, the demand for our veterinary services has increased significantly since 2020. Staffing challenges have interrupted many industries, including veterinary services. Currently there is a nationwide shortage of veterinarians and technicians. As these issues have forced many local clinics to close or reduce their services, the VBSPCA clinic team continues to adapt to meet the growing needs of our community.

As Demand Grows, Services Expand
In just over 2,000 square feet of space, our five veterinarians and their support staff are able to provide wellness exams, vaccines, treatment for illnesses, spay/neuter surgeries, and specialty surgeries to thousands of animals each year including both our public clients and shelter pets. The VBSPCA Clinic also offers walk-in vaccine clinics as well as access to vaccines and spay/neuter surgeries through our Neuter Scooter. These offerings are critical to providing low-cost, routine care to pets in our community.

More recently, the VBSPCA Clinic has become an important resource for local clinics by providing emergency surgery services to those who are experiencing financial hardship. We were recently called upon to assist with an injured Chihuahua whose family had nowhere else to turn. Due to the high cost of treating the Chihuahua's leg, the family thought euthanasia or surrender were their only options. However, our clinic team pooled resources from the community and came up with a care plan that saved the life of the animal while also allowing the family to keep their beloved companion. This is just one example of the countless stories that unfold in our clinic every day. This is only possible because of the generous donors who support our mission.
Additionally, the VBSPCA Clinic now offers laser treatments, which help reduce inflammation, decrease pain, and improve healing. Laser treatments can be of great benefit to a number of medical conditions while also helping speed up the recovery process for animals who have undergone surgery. This is an innovative technology that will be of great benefit to both the animals in our shelter as well as public pets.

A Breakneck Pace
The VBSPCA clinic team is committed to providing compassionate care to public pets and shelter animals alike. As part of a nonprofit organization, our clinic operates with a small but skilled and dedicated staff. Their hours are long, their days are extremely busy – but they show up each and every day to ensure animals get the medical care they need.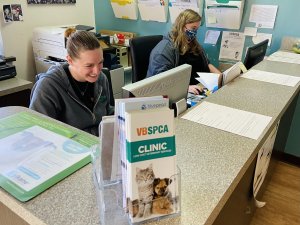 Our phone lines and email are constantly swamped with pet parents in need of appointments and advice. Because of the incredible demand for veterinary service, it can be hard to get through on the phone immediately. While it can be frustrating to wait for a response, we encourage our clients to leave a voicemail or an email so that our team can respond as quickly as they can.

From beloved public pets to shelter animals in need of a second chance, each and every furry friend that visits our clinic benefits from our team's expertise, empathy, and dedication. To those who utilize our clinic services, thank you for trusting us with your pet's care.