A 2023 New Year's Message from our CEO
Community is one of our core values, which includes being an integral and critical partner in animal welfare throughout the region of Hampton Roads. The importance of community was so very evident in our mission, operations, staff, and public throughout 2022. This value resonates loudly today as we recognize the challenges that we are all facing with the growing animal homeless population in our region.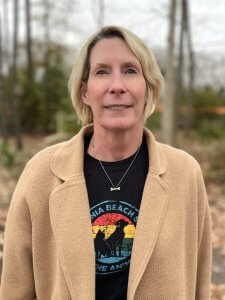 All of our shelters and animal control operations are dealing with overcrowding and decreasing adoption rates – as is the national trend. We work hard to protect the health of the animals and find them their deserving second chances. The work has been overwhelming the past few months but our animal welfare network has collaborated to find solutions whenever we can. Requests for help come in daily, and we each try our best to answer the call. The community of those committed to providing the best care for our animals is vast and strong; the collaboration is critical. This focus will carry us into 2023 as we continue to share information, best practices, and resources with our shelter partners.
Community is also found within our own shelter. Our community of associates working together for the animals has never been stronger. Collectively, we pool resources and knowledge for the sustainable care of the animals from intake to adoption and beyond. Our staff has seen over 23,000 visitors and completed over 2000 adoptions… and that doesn't include the multiple steps taken in between. It takes efficient communication, supportive attitudes, strong work ethics, trust, and collaboration for our internal community to deliver our mission daily.
Our public clinic has returned to our philosophy of providing services to those that need us most by re-implementing our income cap of $65,000 for clients. We are a critical service provider for the health of our community with quality veterinary care that is accessible and affordable. Our talented staff not only strives to heal the animals that are ill, but also educates pet parents on the need for wellness care of all of our animals. Our doors are open to provide resources to our community, our partners, and our shelter.
With the support of our donors, guided by our development and marketing teams, we resurfaced for our community events. Such great joy – and a good deal of fun – was evident at our Wags and Whiskers Gala, Puttin' for Paws Charity Golf Tournament, and Howl-O-Ween Pub Crawl this year. The community came together in celebration of the animals and was reminded of the importance of our mission for the humans who love them. These events are significant to our funding and the community recognition of our need is critical. Longtime supporters and new friends joined together to bring hope and compassion to light.
Hope and dedication brings us to the close of the current year and the beginning of the new. The business planning for 2023 as well as strategic visioning for 2023-2026 are surrounded, driven, and supported by our communities – internal and external. Our operational goals will be aggressive in order to fill the needs and, in return, our ask of support from our community will be strong. Regardless of your role in our community, we need you. Your commitment to us allows us the privilege to stay committed to the animals. Together, we can build each other up and do more.
We are grateful and proud to be a part of your community as we move forward to 2023.
Derby